Falkirk is a quiet town located in Central Scotland. However, there exists a famous name in the bus industry and that is Walter Alexander. Over the years, so many buses have had their bodies fitted and been shipped to places all over the UK and the world from this marvellous plant. As required, I am not able to show the situation inside the Alexander plant by photos here. Nevertheless, I can share with you what I have learnt about the plant and photos that I have taken from outside the plant.

The scale of Alexander bus body plant is pretty large. There are seven production lines. Four of them are for double deckers and the other three are for single deckers. Every stage of the production, e.g. fitting the body, windows, seats, etc., is delimited clearly. There is a particular section for testing products. There is also a laboratory for trial body fittings on new types of chassis (as in July 2000, the laboratory was trying to fit bodys on a 10.6m short version Super Olympian chassis for Hong Kong Kowloon Motor Bus as well as a left-hand driven version Dennis Dart chassis for the USA.).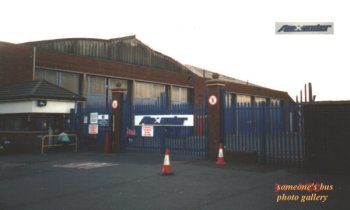 Here is the appearance and the main entrance of Alexander's plant.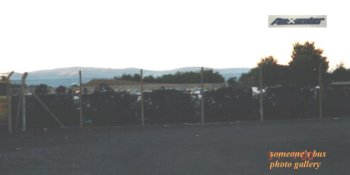 Please not be mistaken! Those black objects in the far side are neither scrapped materials nor refuse! They are actually batches of bus chassis waiting for their bodies fitted. Many of them are Dennis Dart or Trident chassis.
(If you cannot see them clearly, you may click on the photo to enlarge it.)