At the beginning of 1980's, British bus manufacturer Metro Cammell Weymann (MCW) specially built a batch of high capacity, 3-axle buses, which were known as "Super Metrobus". The length of each bus was 12 metres, along with Gardner 6LX CT engine, Voith 3 speed automatic gearbox and fitted with original Apollo bodywork. At that time, China Motor Bus (CMB) bought a few batches of them with a final total of 84 buses. Their CMB fleet numbers were all prefixed with "ML", which implied "super Metrobus, Long in length". However after many years, CMB lost their bus operation franchise in Hong Kong. Now, the new bus company New World First Bus (NWFB) are always keen on making all of their fleets to be air conditioned. As Super Metrobus is unable to provide air conditioning, this type of bus has to be decommissioned. However, the performance of Super Metrobus is still very well. Ensignbus, a bus company famous in dealing 2nd hand buses, have bought most of them. Many of the ex-CMB Super Metrobuses have been shipped to Australia and served as tourist sightseeing buses. The remaining of them have been shipped back to the UK, which are refurbished and sold as 2nd hand buses.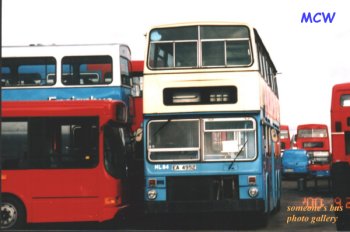 The front of a MCW Super Metrobus with CMB fleet number ML84. It is parked inside Ensignbus' garage in Essex and under refurbishment. Its CMB livery is still visible. It was first registered in Hong Kong in December 1988. The registration number at that time was "EA 4952", which still could be seen in this picture.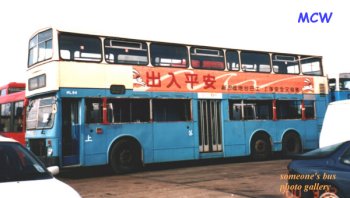 The side view of ML84. Most of the original windows have been taken off. The upper deck has even been fitted with UK style windows that are from other scrapped buses.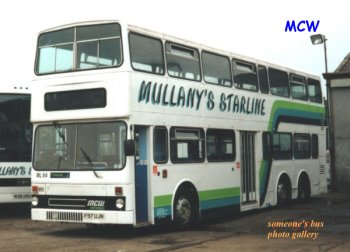 The refurbished ML84 has become a member of Mullany, a bus and coach company based in Watford. It now runs as a school bus for most of the time. Its new livery does give a refreshing look. The windscreen now becomes completely sealed. The bus was re-registered in February 2001 and got a UK registration number "F97 UJN". It should be noted that the bus is now fitted with smaller tyres in order to suit some local rail bridge height restrictions.

(Specially thank to the staff of Mullany for allowing me to go into their garage and take photos relating to the refurbished ML84.)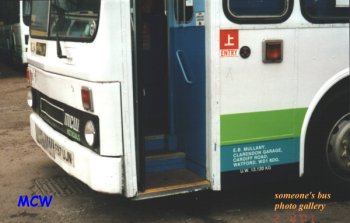 Mullany have deliberately added Chinese translations on many notices of the bus. One of the examples is the Chinese character on top of the word "ENTRY", which gives you a hint about the background of this bus!