Edinburgh is the capital of Scotland. The public bus services in this historic city are mostly running by two major operators in general. Lothian Regional Transport (LRT, with a mostly maroon livery colour) is the largest operator, running more than half of the routes in the city. It was also the only operator before privatisation of bus services. Another operator, Scottish Motor Traction (SMT, with a mostly yellow or white livery colour) has already been acquired by the First Group and become First Edinburgh . It continues to run the remaining routes in the city. However, you can still find the name "SMT" on bus stop signs. The two rivals compete each other and they do not accept tickets issued from each other. In this part, let us take a look at Lothian's buses first.
Lothian Regional Transport (LRT)
I love Edinburgh very much. One of the reasons is that the buses there are very suitable to my taste! Lothian's fleet have the following few characteristics:
1. Most buses are with Alexander bodywork, which is the kind of bus bodywork I like the most! Well, Alexander is Scottish. Of course, it is perfectly normal for a Scottish bus operator to use local products extensively!
2. Most double-decker buses are Leyland/Volvo Olympians. Again, they are the kinds of bus I like the most!
3. All Olympians are 10.3 m in length, the long version!
4. Most Olympians are fixed with Cummins engines, providing enough power to climb hilly roads!
5. Most buses are fixed with double doors, another feature I like!
6. Most buses' wheels are with original wheel covers, giving buses nicer enitre looks in general!
7. Inside, leather seats are adopted instead of traditional down seats. They may be a bit cooler to sit on during thw winter. But, the best thing is that they are easier to clean and therefore more hygenic!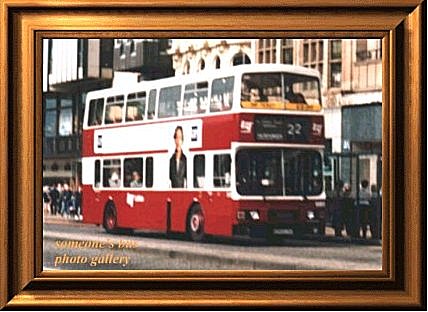 Lothian's Leyland Olympian with Alexander bodywork.
Very similar to the batch running in Singapore.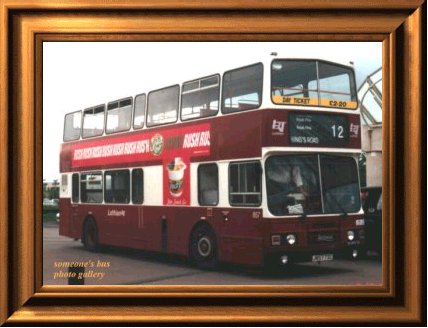 Another Lothian's Leyland Olympian with Alexander bodywork
and a fleet number of 857.
Photo was taken outside Gyle Shopping Centre.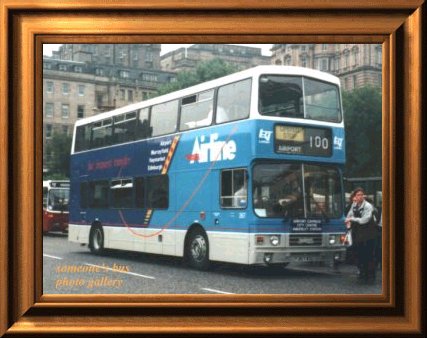 The same type of bus is also being used on route 100 running between the airport and Waverley Station in the city central. The difference is that the staircase of each of these airport buses is located closer to the front.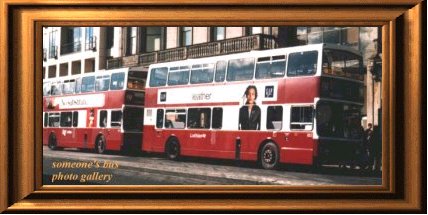 Two Lothian's Volvo Olympian with Alexander bodywork are picking up their passengers respectively at a bus stop.
(Sorry that the fronts of both buses are dark due to sunlight direction. This is the picture I took well before I left Edinburgh. I do hope to take a better shot if I have a chance to visit there again!)