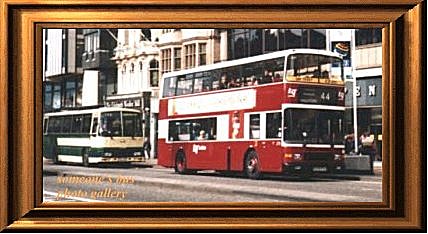 The competition scene -- A Lothian's Volvo Olympian with Alexander bodywork (right) and a First Edinburgh's Leyland Tiger (left) are picking up their passengers respectively at a bus stop. This photo probably is a bit unfair to First Edinburgh...well, please click on the photo to enlarge it if you would like take a more detailed look at that Leyland Tiger.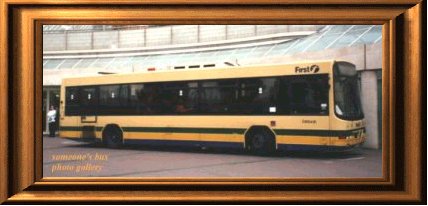 A First Edinburgh's Volvo B10B with Wright bodywork. Look at the top
of this bus, it is fitted with an air-conditioning system!
Stagecoach Western Scottish
Stagecoach does not run any route merely within the city of Edinburgh. This Volvo B10M with Alexander bodywork, which was parking near the bus terminus, is owned by Stagecoach Western Scottish.